Factory rebuilding
Used completely overhauled centrifuges are the economic alternative. Besides the money-saving potential of up to 70 percent in comparison to new devices, there are further advantages. Centrimax- Winkelhorrst Trenntechnik GmbH is a full service supplier for completely- or service- overhauled separators, decanters, and other centrifuges of the brand GEA Westfalia Speparator, ALfa Laval, Flottweg as well as any other centrifuges of the brand Siebtechnik, Krass Maffai - KMPT, Ferrum, Andritz, Guinard, Heinkel and CEPA.


70% money saving
We offer generally overhauled separators, decanters and many other industry-centrifuges of well known manufacturers as GEA Westfalia, Alfa Laval, Flottweg, Siebtechnik, Andritz (KMPT - Kraus-Maffei), Heinkel or CEPA for all purposes. And this with a price advantage of up to 70 percent.
With new PLC Systems
We deliver our centrifuges with new PLC Systems. These control-devices are reliable, secure and easy to handle. Standard-components by Siemens guarantee worldwide spare parts supply.
Quality - Made in Germany
Safety comes before everything. All separators, decanters and centrifuges in Centrimax's delivery program, go through as part of the service- or general overhaul defined operations that are carried out and supervised by our experienced experts. Major components such as the separator drums are overhauled according to the state by the manufacturer.
Over 700 maschines in stock
The product range of Centrimax covers almost the entire centrifugal separation technology. Due to stock availability projects can already be realized after six to eight weeks - with positive side effects, such as less production downtime and lower revenue shortfalls.
The machines of the most famous manufacturers are tailored to your individual requirements. Quality, reliability and excellent value for money are the basic claims of Centrimax.
With warranty
aurnatees create confidence. First after successfully passing the extensive test and the test run we deliver the devices with warranty. Depending on the type of device, Centrimax gives a 13-month guarantee for germany and a 7-month guarantee within europe.
Purchase your centrifuge
If you have separators, decanters and centrifuges, etc. for sale, we will make you an attractive offer. You want to expand your capacity? No problem: We will provide the respective larger model and take your centrifuge in payment.
More machines
Centrimax also supplies other factory-rebuilt and used equipment and machines for process-engineering applications, such as coolers, dryers, evaporators, filters, heaters, heat exchangers, mills/cutters, mixers, pumps, strainers and screw conveyors.
Quality – made in Germany
Overhaul
Including mechanical guarantee
Prior to shipment we subject all centrifuges to a general overhaul or an extensive service overhaul - including mechanical guarantee. Depending on the machine type you get a 13 month Germany wide or a 7 month Europe wide guarantee.
Controller
Siemens S7 with graphic capable operator panel
General or service overhauled centrifuges are fitted with a new SPS controller from Siemens that is optimally matched to your processes and requirements. All controllers are tested on our test system prior to shipment and are put into operation by our experts on-site.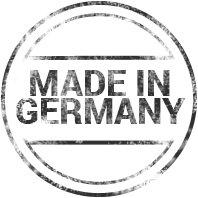 The centrifuge has arrived at the end of the last week. It is already in place, and yesterday we made the first test: all perfect.
Yago del Valle-Inclán - Necton S.A., Portugal
It sounds like the centrifuge got picked up yesterday and that all went well! I will let you know if I need anything else from you. It has been a pleasure working with Centrimax!
Gavin Sullivan - Sully Enterprises, South Jordan
We have a good experience with Centrimax.
– Biopaliwa S.A.
It´s been a pleasure doing business with your company.
– Cangene
... I heard from others Lallemand project managers some good words about centrimax. ..
Martin Côté - Lallemand Inc.
… It works perfect. No complain at all….
Ferran Gimeno - ampc-europe
I would like to inform you that the bowl was mounting and works well.
Thank you for smooth cooperation.
Piotr Kolakowski - Danisco Biolacta Sp. z o.o.
Thank you very much for great customer service, much appreciated
Best regards
Chris J. Pattinson - Organic Aloe (Pty) Ltd
We got a separator. Satisfied with the quality of the goods. I want to ask about the possibility of delivery of another separator KO 2006 or similar characteristics with the function of steam sterilization.
Sergey Shcherbakov - Schelkovsky Biokombinat
The new separator is fantastic. The plant produces more, better and safer - thanks.
Jørund Hagen - Vitalseafood
The unit looks very nice and the panel well engineered and documented. Your team did a nice job.
Thanks.
Dave Tarpo - American Chemical Service, Inc.
Your advantages
Sales of centrifuge
Purchase of centrifuge